Posted on April 8, 2010
Filed Under hdtv, Video conferencing | Leave a Comment
If you're a fan of science fiction you would remember the "fictional" pad devices that could retrieve information like ship schematics and shift schedule in StarTrek. How very futuristic they looked just ten years ago… Well WELCOME TO THE FUTURE with HP Slate:
HP Slate is a full featured PC. A multi-touch device running windows 7. HP Slate promises about everything Apple's iPad fell short of. With "The Slate" you get full featured browsers capable of running flash and HD internet video. You can stream movies in your browser and do about everything you can do with a netbook.
While the specs of the device aren't spectacular they are more than sufficient to replace most netbooks. The device itself is much lighter though but comparable in price.
Posted on March 12, 2010
Filed Under Uncategorized | Leave a Comment
Firefox 3.6 has been released and prompted me for update today. I skipped it at work(fortunately), but did proceed with the update at home. Everything went OK with the upgrade and I got a nice greeting from the mozilla foundation congratulating me on using the "most of the best" browser out there. Well that's pretty much great indeed
I went to one forum I read often and middle-clicked on half a dozen topics I found of interest and scrolled to the end of the tabs line(usually 30-40 tabs open) and … I didn't find any new tab in there?!? WTF?!?
Well it turns out the mozilla team has implemented and set as default the same morronic tabs grouping concept as windows 7′s taskbar. I didn't like it at all!!! I use lots of tabs and relative positioning is very important for my navigation. If I wanted a damn tree I'd plant one myself! Fortunately unlike the windows7 case mozilla team have an option to turn this idiocy off. It should have been shown at the "Tabs" tab in options, which is half empty, but I'm glad it exists at all…
To disable tab grouping in Firefox 3.6 or later do the following:
Type about:config in the address bar and press enter.
Agree that you will be careful. Be more careful than the one that put this on as default at least
You will be shown with a list of lower level options for Firefox. Type browser.tabs.insertRelatedAfterCurrent in the filter field. You should see a single setting of type boolean.
Double-clik the browser.tabs.insertRelatedAfterCurrent setting so it toggles and shows false;
Congratualtions you're now with the good old sequential tabs interface.
Hope this helps somebody out there. I didn't find anything about this online today.
Wish I had a solution about the same problem with windows 7 taskbar, but I don't. If anyone knows one, please help!
Posted on November 20, 2009
Filed Under Uncategorized | Leave a Comment
Google just announced an open source project called Chromium OS. This project is intended to allow partners and developers to participate in the development of their new web oriented operating system – Chrome OS. What is the difference if any between the final Chrome OS and Chromium OS projects is yet unknown tough.
Google's Browser OS in intended for people spending time exclusively on the web and for light and portable devices like netbooks.
The OS is built around Google's Chrome Browser which supports direct video embedding and playback in HTML5.0 pages with the h.264 and Ogg Theora formats.
Here's the video of the presentation:

Posted on November 16, 2009
Filed Under Uncategorized | Leave a Comment
Blu-Ray DISC
Blu-ray, also known as Blu-ray Disc (BD), is the name of a next-generation optical disc format jointly developed by the Blu-ray Disc Association (BDA), a group of the world's leading consumer electronics, personal computer and media manufacturers (including Apple, Dell, Hitachi, HP, JVC, LG, Mitsubishi, Panasonic, Pioneer, Philips, Samsung, Sharp, Sony, TDK and Thomson). The format was developed to enable recording, rewriting and playback of high-definition video (HD), as well as storing large amounts of data. The format offers more than five times the storage capacity of traditional DVDs and can hold up to 25GB on a single-layer disc and 50GB on a dual-layer disc. This extra capacity combined with the use of advanced video and audio codecs will offer consumers an unprecedented HD experience.
While current optical disc technologies such as DVD, DVD±R, DVD±RW, and DVD-RAM rely on a red laser to read and write data, the new format uses a blue-violet laser instead, hence the name Blu-ray. Despite the different type of lasers used, Blu-ray products can easily be made backwards compatible with CDs and DVDs through the use of a BD/DVD/CD compatible optical pickup unit. The benefit of using a blue-violet laser (405nm) is that it has a shorter wavelength than a red laser (650nm), which makes it possible to focus the laser spot with even greater precision. This allows data to be packed more tightly and stored in less space, so it's possible to fit more data on the disc even though it's the same size as a CD/DVD. This together with the change of numerical aperture to 0.85 is what enables Blu-ray Discs to hold 25GB/50GB. Recent development by Pioneer has pushed the storage capacity to 500GB on a single disc by using 20 layers.
Blu-ray is currently supported by about 200 of the world's leading consumer electronics, personal computer, recording media, video game and music companies. The format also has support from all Hollywood studios and countless smaller studios as a successor to today's DVD format. Many studios have also announced that they will begin releasing new feature films on Blu-ray Disc day-and-date with DVD, as well as a continuous slate of catalog titles every month. For more information about Blu-ray movies, check out our Blu-ray movies and Blu-ray reviews section which offers information about new and upcoming Blu-ray releases, as well as what movies are currently available in the Blu-ray format.
Technical specifications
| Type | Physical size | Single layer capacity | Dual layer capacity |
| --- | --- | --- | --- |
| Standard disc size | 12 cm | 25 GB / 23866 MiB / 25025314816 B | 50 GB / 47732 MiB / 50050629632 B |
| Mini disc size | 8 cm | 7.8 GB / 7430 MiB / 7791181824 B | 15.6 GB / 14860 MiB / 15582363648 B |
High-definition video may be stored on Blu-ray ROM discs with up to 1920×1080 pixel resolution at up to 60 frames per second interlaced or 24 frames per second progressive:
Resolution
Frame rate
Aspect ratio
Codec
1920×1080
59.94-i, 50-i
16:9
1920×1080
24-p, 23.976-p
16:9
1440×1080
59.94-i, 50-i
16:9
MPEG-4 AVC / SMPTE VC-1 only
1440×1080
24-p, 23.976-p
16:9
MPEG-4 AVC / SMPTE VC-1 only
1280×720
59.94-p, 50-p
16:9
1280×720
24-p, 23.976-p
16:9
720×480
59.94-i
4:3/16:9
720×576
50-i
4:3/16:9
Posted on November 15, 2009
Filed Under Video files, Video Guides | Leave a Comment
In this tutorial I want to show you how your personal computer can convert avi files to mp4 files.

Needed programs : Total Video Converter(for convert), total video player(to see new file).
First:
Open Total video converter
And click NEW TASK, Import file who want to convert and click in MPEG4 Format.
If you like high quality change from this
After you select quality click on the button Convert NOW.
Sometimes convert on avi to mpeg4 (mp4) is want time (1-3 hours).
When convert is finished you can open on your personal computer to see quality, resolution or other.
MP4 (MPEG4) format is for mobile phones.
And now briefly about 2 formats
Audio Video Interleave, known by its acronym AVI, is a multimedia container format introduced by Microsoft in November 1992 as part of its Video for Windows technology. AVI files can contain both audio and video data in a file container that allows synchronous audio-with-video playback. Like the DVD video format, AVI files support multiple streaming audio and video, although these features are seldom used. Most AVI files also use the file format extensions developed by the Matrox OpenDML group in February 1996. These files are supported by Microsoft, and are unofficially called "AVI 2.0″.
~~~~~~~~~~~~~~~~~~~~~~~~~~~~~~~~~~~~~~~~~~~~~~~~~
MPEG-4 is a patented collection of methods defining compression of audio and visual (AV) digital data. It was introduced in late 1998 and designated a standard for a group of audio and video coding formats and related technology agreed upon by the ISO/IEC Moving Picture Experts Group (MPEG) under the formal standard ISO/IEC 14496. Uses of MPEG-4 include compression of AV data for web (streaming media) and CD distribution, voice (telephone, videophone) and broadcast television applications.
MPEG-4 absorbs many of the features of MPEG-1 and MPEG-2 and other related standards, adding new features such as (extended) VRML support for 3D rendering, object-oriented composite files (including audio, video and VRML objects), support for externally-specified Digital Rights Management and various types of interactivity. AAC (Advanced Audio Coding) was standardized as an adjunct to MPEG-2 (as Part 7) before MPEG-4 was issued.
MPEG-4 is still a developing standard and is divided into a number of parts. Companies promoting MPEG-4 compatibility do not always clearly state which "part" level compatibility they are referring to. The key parts to be aware of are MPEG-4 part 2 (including Advanced Simple Profile, used by codecs such as DivX, Xvid, Nero Digital and 3ivx and by Quicktime 6) and MPEG-4 part 10 (MPEG-4 AVC/H.264 or Advanced Video Coding, used by the x264 codec, by Nero Digital AVC, by Quicktime 7, and by high-definition video media like Blu-ray Disc).
Most of the features included in MPEG-4 are left to individual developers to decide whether to implement them. This means that there are probably no complete implementations of the entire MPEG-4 set of standards. To deal with this, the standard includes the concept of "profiles" and "levels", allowing a specific set of capabilities to be defined in a manner appropriate for a subset of applications.
Initially, MPEG-4 was aimed primarily at low bit-rate video communications; however, its scope as a multimedia coding standard was later expanded. MPEG-4 is efficient across a variety of bit-rates ranging from a few kilobits per second to tens of megabits per second. MPEG-4 provides the following functionalities.
That's all from me! Best regards!
Posted on October 18, 2009
Filed Under Uncategorized | Leave a Comment
One of the most promising web analytical tools – Woopra is going out of beta and becomes a paid subscription service. I was thrilled by the news since I've been using their tool while in beta and was frustrated by the pageviews limitation of 10000 which leaded to having stats for some of my sites up to mid day.
I went to woopra.com to check my profile and their new plans details and at first it looked somewhat ok. I do around 80k pageviews per day(which is not much) which means around 2,500,000 pageviews per month, which puts me into their top plan $99.95 with 4000000 pageviews(which is low for a top plan). While I do think it's a bit of a premium price I find it acceptable…
However the subscription plans are per site!?!? Now that's a serious problem! There are several factors contributing for this to be a bad marketing decision on their side.
First: The price is not low by any means, so it is essential for power users to be able to, buy a wholesale package. I own ~50 sites. Having 50 subscription plans with a single service is idiocy.

Second: It takes more time to manage multiple packages.
Thirst: Sites that do a lot of traffic usually gain less per unit of traffic(lower CPM). Thus I'd have to use expensive package on a low profit site.
Fourth: They are competing a free tool on it's own ground.
I do hope woopra comes up with a better packaging system or it will be useless to me and many others, since I wouldn't use both Analytics and woopra for the same thing.

Posted on October 18, 2009
Filed Under Video Sharing | Leave a Comment
Youtube is the pioneer of web video. Youtube is the leader in the video sharing niche with a share exceeding 80%. Youtube is important to google in their effort to dominate the web. Youtube is EXPENSIVE!
Youtube costs Google in the hundreds of millions per year. That's US dollars.  While Mark Cuban claims that Google has to stop subsidizing Youtube, because Youtube will be eventually superceded by a better competitor as does every technology service eventually, I believe Google will not do that. And the reason why Google won't let youtube close is- THEY CAN'T AFFORD THAT!
Some of the reasons why Google can't afford to lose Youtube:
Video is a medium already widely available on the web(even excluding youtube). Losing Youtube would impair google presence in such a way that they will be directly on par with Microsoft(powering Yahoo shortly).
Google has failed once already in the web video niche. Second failure is a very bad thing for a technology leader.
Admitting failure is not an option for their management on something that costly (stocks will go deep down)
In short by losing Youtube Google will feel mortality again and that's not an option!
Posted on September 3, 2009
Filed Under Video Guides | Leave a Comment
Hello Friends! Today I`ll post for convertation – avi or any video format to dvd.
VSO's ConvertXtoDVD software can take almost any common video file you have, encode it to MPEG-2, build a DVD compilation and Burn to a blank DVD, and the best part is how easy it all is. It has the ability to convert multiple file types, including AVI files (DivX or XviD supported), Quicktime files (MOV), Matroska files (MKV), Windows Media Video files (WMV) etc.. to DVD. It produces a VIDEO_TS folder containing your DVD files (.VOB, .BUP and .IFO) and can burn it directly to DVD. It can convert NTSC to PAL and vice versa, 4:3 or 16:9 output and also has more bitrate options than previous versions of the software. It has support for manual or automatic chapters, subtitle streams and multiple audio streams also. It can also output an interactive Menu; complex with motion and audio, or a simple still menu, it's your choice.
1 – Introduction & Requirements
You will need to have enough free space for this process. Depending on the amount of video files you add to the process, it could produce a DVD compilation up to 4.36GB (single layer, up to 8.5GB for dual layer if you select it). You will need that and more in free space. The process will also take some time to complete, maybe hours, but relative to other encoding options, ConvertXtoDVD is very fast.
Please note that ConvertXtoDVD is not free; but you will be able to use it free for a limited time before you will need a license to keep using it.
VSO ConvertXtoDVD Installation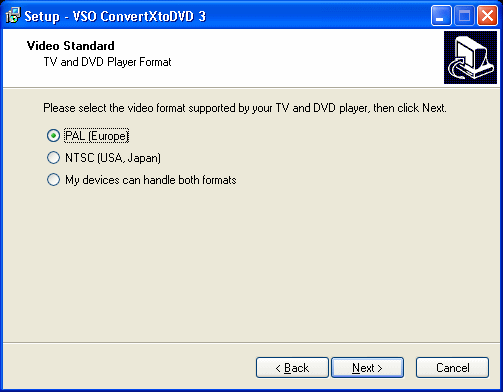 The ConvertXtoDVD installer is as easy to use as can be. Simply follow the steps. When you get to the screen shown above, it gives you an opportunity to set region settings that will determine default settings in the program. You can set anything you want here and change it later on if need be within the program itself. Simply finish the installer and then run ConvertXtoDVD from the shortcut on your Desktop or Start Menu.
2 – ConvertXtoDVD First Run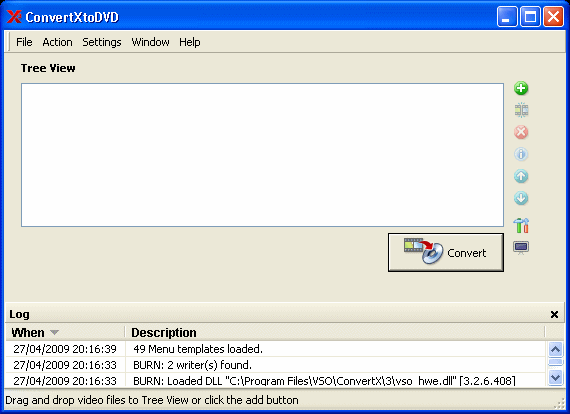 When first run, ConvertXtoDVD will look just like the picture above. It is pretty simple to understand and following this guide, it's ease of use will become apparent. There are also two windows you can add to the Interface; Video Preview and Log. To add those, which are not default you can select them from Window in the top bar. Now that we have the program installed and have it running, let's get right into it and add video(s) to the project, then select what Audio and Subtitles see down!
3- Open Files with ConvertXtoDVD
To add movies to the program could not be easier. Simply drag the file or files into the tree view window or hit the Add button that looks like this; . If you hit Add then you will have to browse your hard drive for the file or files.
4 – File Information – Input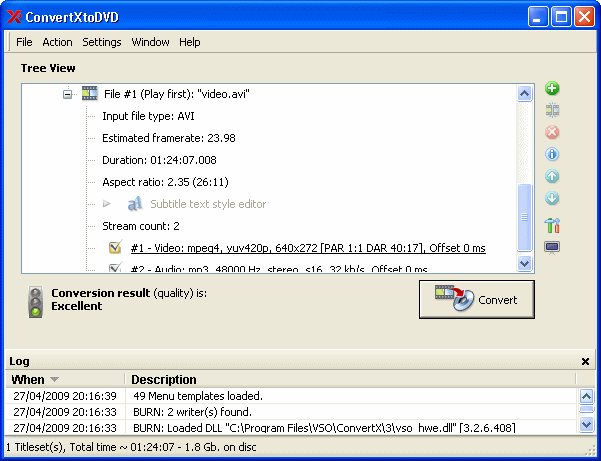 Once the Video file appears in the list, click the + beside it (it will be listed as Titleset 1). Now from the new set of options that emerges you will find an option for Source file(s) info. Tick the + beside it. Below is the kind of information you will receive, compared to the image above.
Input file type: In the image above it's an AVI file, a very common multimedia container. Generally AVI files have only one video and one audio stream, whereas if you have an MKV file, you could be looking at multiple streams of each and even subtitles.
Estimated framerate: In the image above it is 23.98 frames per second, which is technically NTSC. It will encode well to PAL, which is 25.00 frames per second. Another common frame rate is 29.97 frames per second – all three are part of the DVD-Video standard. Whatever the case, the output will be either 23.97fps, 25.00fps or 29.97 fps. If you have a file with a low framerate like 15.00fps, ConvertXtoDVD will duplicate frames to make up the difference, which can affect quality but is unavoidable.
Duration: The more content you try to cram on a DVD, the less quality you will achieve. Keep an eye on the length of your videos. Generally speaking ConvertXtoDVD will produce good quality up to about three hours, relative to the input quality.
Aspect Ratio: The Aspect Ratio is 2.35 in the image, which tells me right away it is anamorphic/wide. 4:3 would indicate a fullscreen file, while 16:9 may also be a result for wide.
Stream Count: If you are working with MKV particularly, it can help to check the total stream count, as the file may have multiple different languages or audio tracks with a different number of channels.
It's not vital that you remember this information, as ConvertXtoDVD will output DVD suitable to any region you live in and will make an educated decision on the output Aspect Ratio, but remember this is a good practice to keep up when you are encoding files so you know what you are working with.
5 – File Information – Output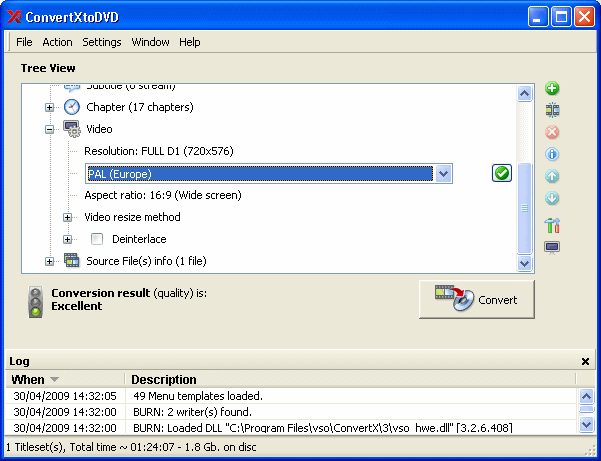 We can now use the information that we learned earlier to make changes to how ConvertXtoDVD will output a DVD-Video compilation. Again, click the + beside the video to expand the options. In the list, you will find Video, click the + beside it. In here we can make some changes that will greatly affect the output.
Resolution: By default, ConvertXtoDVD will always choose Full D1 resolution (720×576 for PAL, 720×480 for NTSC). It is highly recommended for the sake of quality that you don't change this setting for good quality video content. However, if you have poor, low-resolution video quality, then you can choose another option, like Half D1, which will reduce the resolution and thus, the need for higher bitrates, meaning you can squeeze more on a single disc. Note however that changing from Full D1 might cause problems with some DVD players.
Format: Depending on where you are living, you will have to choose a PAL or NTSC output. While PAL and NTSC have more to do with color in practice, they also define a frame rate. We know that the input video in this example is 23.98 frames per second, that's NTSC, so we can match it to NTSC for the best quality. However, I live in Europe, which means I need to choose PAL, so ConvertXtoDVD will convert the 23.98fps, to 25.00fps, which will change the playback a bit but not noticeably. As a rule of thumb, if you live in Europe, Australia, NZ, then go for PAL. If you live in North America or Japan, then go with NTSC. This is more to do with compatibility with your television than anything else, so it is important that you get it right.
Aspect Ratio: You have two options, 16:9 or 4:3. In the example, we had video that was 2.35:1, which is meant to be displayed on a widescreen, therefore I will go with 16:9. If yours specified 4:3, then go with 4:3. Note that if you have different aspect ratio values than have been discussed here, don't worry about it because most of the time, ConvertXtoDVD will guess it right.
6 - Output Settings – Choose Audio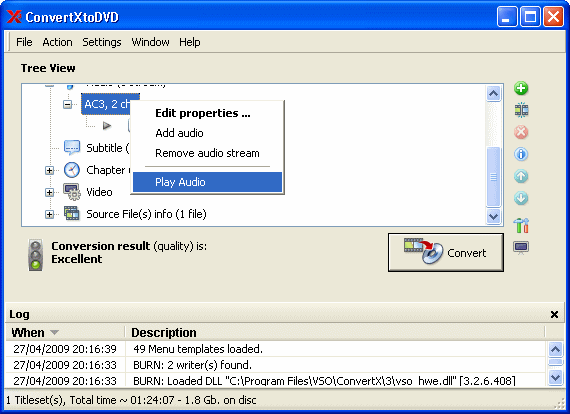 In most cases you will only have one Audio track in your multimedia file. However, when working with MKV and other flexible containers, this isn't always the case. Click the + beside the video you want to choose audio for. You will then be able to expand the Audio options too, like in the picture above. If you have MP3, AC3 (Dolby) or DTS audio, it will list the tracks. To make sure you select the right track, right click and select Play Audio. This will now play the audio track for you so you can be sure you have the right language etc. For all the audio tracks you don't want, simply right-click and click Remove audio stream.
Notice that by right-clicking on an audio stream you also have an "Add Audio" option, which will allow you to add audio from an external file.
7 – Output Settings – Choose Subtitles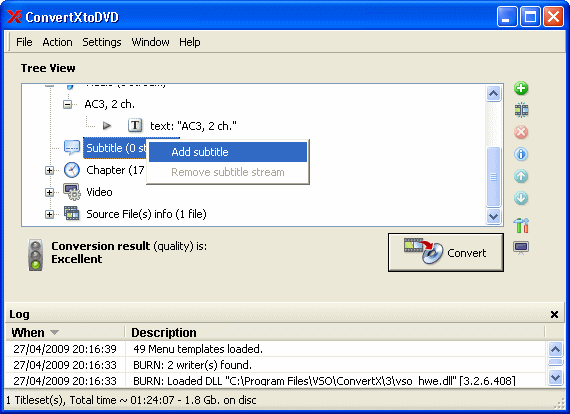 Click the + beside the video you want to change Subtitles settings for. Underneath Audio, there is a Subtitle category. If there are Subs within the multimedia container, then ConvertXtoDVD should detect them and you should be able to click a + beside Subtitle to expand a list. If it doesn't have any subtitles, you can add some yourself from an SRT file by right-clicking and clicking Add subtitle. Also note that any Subtitle streams you would prefer not to be on your Output DVD can be removed by simply right clicking on them and clicking Remove subtitle stream.
8 – Automatic Video Chapters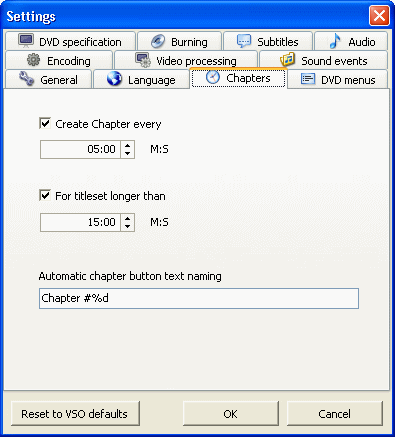 One of the most important features of DVD-Video is the ability to set chapters for specific times or frames. Going through the video yourself and adding chapters at necessary points might be something you want to do, but if not then you will like ConvertXtoDVD's ability to automatically add chapters based on some conditions. Click Settings in ConvertXtoDVD, and click Chapters, and you will get a new Window open that appears the same as the window above.
Create Chapter every: If selected, you can set a number of minutes and seconds between chapters. The default is 5:00
For titleset longer than: What is the point in having chapters for a 15 minute video? This setting will specify a playback length that a titleset (video) must be before it qualifies for auto-chapters to kick in. The default is 15 minutes. Of course if it is longer than 15 minutes, chapters will be set before the 15 minute mark too, not just after it.
Automatic chapter button text naming: This setting is on by default but only kicks in if you are using auto-chapters anyway. Basically you can't do much with it, it is just syntax for automatic naming. To describe it basically, each Chapter must be labeled as something on the menu. If you don't want to label it yourself, then this will automatically label it "Chapter" and then the "#%d" instructs the program to number the chapter names sequentially, so the result is the chapter at 5:00 is "Chapter 1″, at 10:00 is "Chapter 2″ and so on. If you change the word Chapter to something else, like Part, then it would become "Part 1″, "Part 2″, or if you completely removed the "#%d" then they would all be labeled whatever word you put in.
9 – Manual Chapter Creation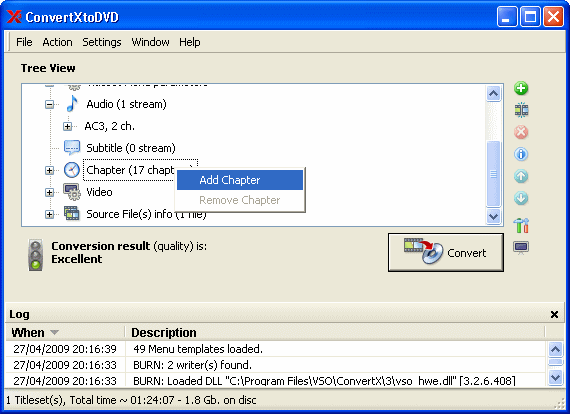 Of course, you do not have to settle for automatically generated chapters, and can add your own chapter (timecode) by clicking the + beside your Titleset (video), right clicking on Chapter and clicking Add Chapter. You will now be able to set a time that you want to specify a chapter point be located. Note also that you can change the chapter named by clicking the + beside Chapter, and then click the + beside any chapter you want to add a name to, and you will see the option to add text.
10 – Choose Menu Type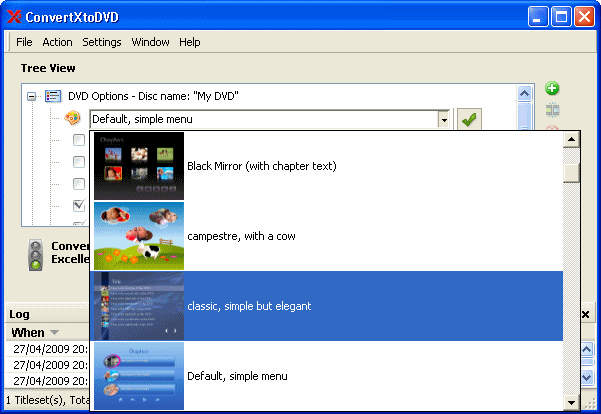 As mentioned in the Introduction of this guide, ConvertXtoDVD can create menus that range from simple still picture menus to complex motion menus that have small thumbnail sized clips from your videos. Also, importantly, it has the option to not use a Menu at all. Since this guide is not about to spend paragraphs going through all the menus, I suggest you simply take a close look at them to see which you'd prefer, or you can opt for the "No Menu" option.
To get to the list of menus tick the + beside DVD Options as shown in the picture above. You will see a "Template Now Used" option first. Click it so it is selected, and then click it again. You will notice a select box will appear. Click the box and you will have the full list of available menu templates from ConvertXtoDVD. My suggestion is to stick to simply classic menus if you have a lot of video content on your DVD, like 3 – 4 hours+ of material. Other than that, feel free to experiment with any of the menus you'd like, or choose not to use a Menu, which makes sense for a DVD with just one movie.
11 – Further Menu Settings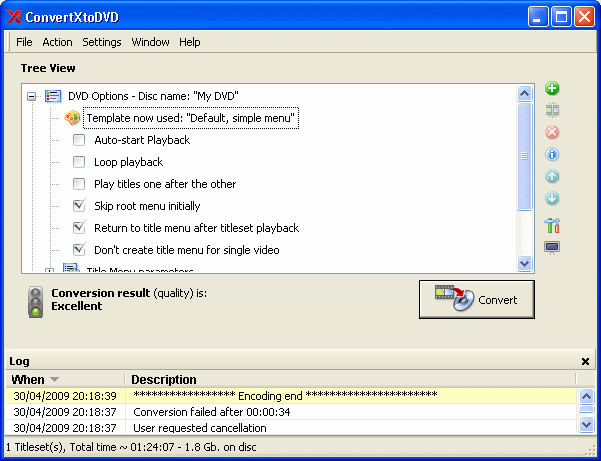 Under the DVD Options settings there are more things to change than just the menu template. Here are some options and what they are…
Auto-start Playback: If this is selected the menu will be skipped when the disc is inserted into a DVD player, the menu will be shown after the Title.
Loop playback: Instead of going back to the Title Menu when the last Title (video) on the disc has finished playing, if this option is selected you will be returned to the first Title (video), instead of the Menu.
Play titles one after the other: With this option selected, each Title (video) on the disc will play sequentially, that is when the first is finished, it will automatically play the second and so on, without going back to the Menu.
Skip root menu initially: The Menu that will display when you insert the DVD is the "Title Menu". Each Titleset (video) also has its own "Root Menu". If this option is selected, then you will bypass the Root Menu when you select a video on the Title Menu. This is recommended because it saves time and effort.
Return to the title menu after titleset playback: This is closely related to the above setting. In this case, one a titleset has finished playing, it will return straight to the Title Menu and bypass the Root Menu altogether.
Don't create title menu for single video: If selected, any DVD you are making with ConvertXtoDVD that contains just one video will not have a Title Menu at all, as it really doesn't require a Menu.
12 – Change DVD Name and Titleset Label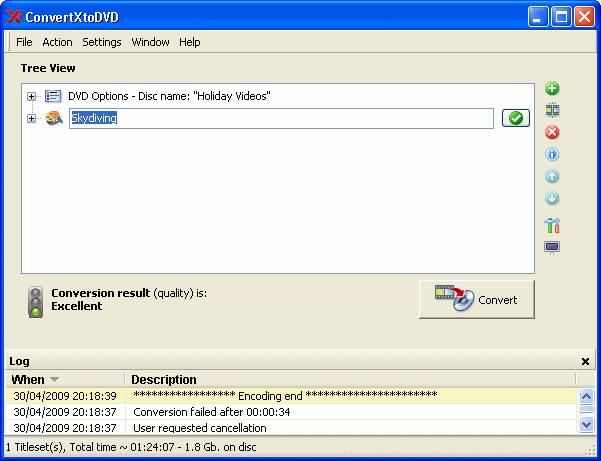 At the top of the Menu created by ConvertXtoDVD, it will display the DVD Name. The default DVD Name as you might have noticed, is "My DVD". To change this, click "DVD Options – Disc Name" so that is appears selected (blue), then click it again (don't double click fast or it won't work) and you will be able to edit the name of your DVD. You will also notice (from the picture above) that you can do it for all Titlesets (videos) that you have added to the compilation. Remember each video will also show up on the Menu, so be sure to remember to customize this as above.
13 – Encoding Quality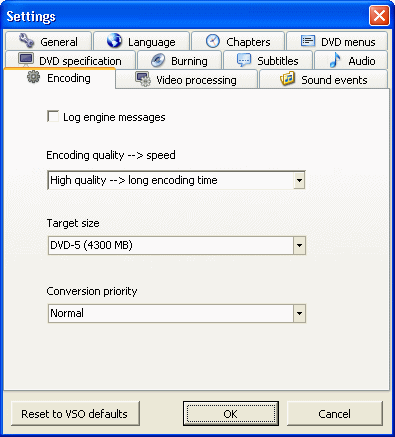 To put it as simply as I can, the more time ConvertXtoDVD is allowed to spend encoding your video, the higher the output quality will be. Click Settings and click Encoding, and you will see the same options as shown above.
Encoding quality –> speed: Here you can choose to have High quality video (with the longest encoding time), Medium quality (with the medium encoding time) and Low quality (with the fastest encoding time). My recommendation always has been and always will be that if you are going to do this, you should do it right by always choosing the highest quality option.
Target size: Do you have a normal blank DVD-R, or a dual layer blank DVD? If it is simply a normal blank DVD (DVD-R, DVD+R, DVD-RW or DVD+RW) then choose the option DVD-5 (4300 MB). If you have a dual-layer blank DVD (DVD-R DL, DVD+R DL, DVD-RW DL or DVD+RW DL) then choose DVD-9 (8100 MB). If you know what you are doing, you can also set a Custom limit on MB of data that can be used.
Conversion priority: Each program that runs in Windows has an assigned priority – that is, programs are given resources based on their priority. Encoding will use a lot of resources (100% CPU usage for sure) so you have the option of changing its priority. However, I have found that opting for Highest or Time Critical simply doesn't help very much. I would suggest keeping it at Normal priority.
14- Conversion
Start Convert and Waiting few hours.
Posted on September 2, 2009
Filed Under Video Guides | Leave a Comment
The DVD specifications provide a set of machine instructions which tell the DVD player how to play back the video and audio contents of the DVD. The complete set of instructions is also known as the Virtual Machine (VM) DVD command set. To have absolute control over your DVD authoring project without any compromise, you will need to understand what these instructions can do. The informational guides and real-world examples presented in this site will help you become a proficient DVD author at the VM command level.
The VM command set is designed to direct the flow of playback and the majority of its instructions are navigation commands. These commands can be placed at the beginning of the PGC (pre-commands), at the end of the PGC (post-commands), at the end of a cell (cell commands), or in the navigation pack of a menu button (button commands). Navigation commands direct playback or alter the order of playback to jump from one video title to another. With navigation commands, the DVD author has complete control and can design custom levels of navigation and interactivity to instruct the DVD player to change and adapt the playback flow and characteristics.
The VM command set provides 16 general parameter registers (GPRM) to hold temporary values and 24 system parameters (SPRM) to hold information specific to the DVD player model such as region, default language settings, parental level, etc.
Some typical usage of navigation commands:
Automatic repetition of playback of a movie title.
Change playback sequence of audio and video titles depending upon the selected audience.
Select the appropriate video contents and audio language based upon the settings users set into their DVD players.
Interactive video quizz and games.
Select fixed branching (the playback flow is not changed).
Select conditional branching (the playback flow changes depending upon the system parameter values or user input settings).
The DVD specification has certain restrictions on playback path.
From VMG domain to a VTS domain via a title or a VTS menu.
From a title to a chapter (through an entry PGC in the VMG)
From a VTS menu or a PGC in VTSM domain to a chapter.
Playback cannot flow directly from one VTS to another but must be routed through an entry PGC in the VMG.
There are six groups of navigation commands,
consisting of a total of 36 instructions,
as shown in the following table.
Group
Functions
Link
Start video within the current domain.
Can be combined with SetGPRM, Compare, SetSystem commands.

LinkPGCN
LinkPGN
LinkCN
LinkNoLink
LinkTopC
LinkNextC
LinkPrevC
LinkTopPG
LinkNextPG
LinkPrevPG
LinkTopPGC
LinkNextPGC
LinkPrevPGC
LinkGoUpPGC
LinkTailPGC
LinkPTT

Jump
Start video in a specified domain.
Can be combined with Compare commands. Compare operands can be a GPRM or SPRM only. No immediate values are allowed.

JumpTT
JumpVTS_TT
JumpVTS_PTT
JumpSS
CallSS

GoTo
Go to another navigation command.
Can be combined with Compare commands.
Compare
Compare registers or values.
Can be combined with Link, SetGPRM, SetSystem, GoTo, and Jumpcommands.
SetSystem
Set System parameters.
Can be combined with Link, Compare commands.

SetSTN
SetGPRMMD
SetHL_BTN
SetNVTMR
SetAMXMD
SetTmpPML

SetGPRM
Compute GPRM values.
Can be combined with Link, Compare commands.

Add
Sub
Mul
Div
Rem
Rnd
And
Or
Xor
Posted on September 2, 2009
Filed Under Video conferencing, Video files, Video Hosting | Leave a Comment
Hello Friends! Today I`ll post for software for creating and editing on movies
Looking for a good video editor or movie making software that you can download for free ?
It's only a myth that you need expensive video editors for video editing tasks like adding scrolling texts, subtitles or custom animations – you will find such features even inside free video editors that we discuss here to help you produce video podcasts, home movies and online web video easily.
But before that, do check the installation DVD that came with your handycam or digital camera – most camera vendors like Sony, Canon and Panasonic generally provide a decent video editing software with the camera. If that doesn't help, here's a list of best and free video editing software:
Windows Movie Maker – The best video editing tool for Windows that's absolutely free and chances are you already have it installed on your computer as part of XP SP2. Microsoft Movie Maker has all the basic video editing tools plus a good collection of transitions and video effects.
There's an in-built movie titler that lets add you styles to text titles including ticker taps, zoom and even the scroll effect. And if you are feeling lazy, just hit the AutoMovie command to have the entire video produced for you with intervention.
Avid Free DV – Avid Free DV, poor cousin of Avid Xpress Pro, has all the basic video and audio editing features and allow you to put video in two tracks simultaneously. They have an extensive collection of tutorials online to help you get started quickly.
Support both Mac OS and Windows XP platform. Infact, you can even play with keyframes for generating custom moves and transitions. Ships with the Avid Title tool.
Online Video Editing Programs
Jumpcut.com – Jumpcut is a web based video editing software and now it's even part of the Yahoo! family. You upload a video or small clips just like importing inside a desktop software.
There are dozens of transitions and special effects. You can import photographs from your Flickr or Facebook account to mix them with the videos. The jumpcut editor is intuitive enough and there is good title support as well. And your movies are published online automatically. Perfect for quick vlogging and video podcasting.
JahShaka* (discontinued) – An open source video editing software that is currently in Alpha stage but has features found only in expensive video editing software suites.
Works on Macintoch, Linx and Win. Interface might take some time for you to get started otherwise the software is definitely the most powerful one out there. And the price is just right. $0. Also does 3D effects which you won't find in other free video editors.
Conclusion: While all the above free video editing software will satisfy the needs of most amateurs and home movie makers, you can probably consider Adobe Premiere Elements, Pinnacle Studio, Ulead Studio, Sony Vegas, Nero or Muvee Auto Producer for more features and better control over the final video output. They have trial version to help you try out the software before actually buying it.
Posted on September 1, 2009
Filed Under Video files | Leave a Comment
The AVI Format
The AVI (Audio Video Interleave) format was developed by Microsoft.
The AVI format is supported by all computers running Windows, and by all the most popular web browsers. It is a very common format on the Internet, but not always possible to play on non-Windows computers.
Videos stored in the AVI format have the extension .avi.
The Windows Media Format
The Windows Media format is developed by Microsoft.
Windows Media is a common format on the Internet, but Windows Media movies cannot be played on non-Windows computer without an extra (free) component installed. Some later Windows Media movies cannot play at all on non-Windows computers because no player is available.
Videos stored in the Windows Media format have the extension .wmv.
The MPEG Format
The MPEG (Moving Pictures Expert Group) format is the most popular format on the Internet. It is cross-platform, and  supported by all the most popular web browsers.
Videos stored in the MPEG format have the extension .mpg or .mpeg.
The QuickTime Format
The QuickTime format is developed by Apple.
QuickTime is a common format on the Internet, but QuickTime movies cannot be played on a Windows computer without an extra (free) component installed.
Videos stored in the QuickTime format have the extension .mov.
The RealVideo Format
The RealVideo format was developed for the Internet by Real Media.
The format allows streaming of video (on-line video, Internet TV) with low bandwidths. Because of the low bandwidth priority, quality is often reduced.
Videos stored in the RealVideo format have the extension .rm or .ram.
The Shockwave (Flash) Format
The Shockwave format was developed by Macromedia.
The Shockwave format requires an extra component to play. This component comes preinstalled with the latest versions of Netscape and Internet Explorer.
Videos stored in the Shockwave format have the extension .swf.
Posted on September 1, 2009
Filed Under Video files, Video Hosting | Leave a Comment
A DVD-compliant disc contains files necessary for playback of DVD-Video, and is made up of one Video Manager (VMG) and multiple Video Title Sets (VTS). The VMG is composed of up to three files:
1. VIDEO_TS.IFO consists of control and playback information for the entire DVD. Locations of all Video Title Sets on the disc are stored in this file. The first-play PGC is also stored in this file. VIDEO_TS.IFO is known as VMGI (The Video Manager Information file). This file is required to be present on a DVD-compliant disc.
2. VIDEO_TS.VOB contains the contents required for the title menu. The title menu is usually designed to get access to video titles present on other VTS, and is displayed when the "Title" button on the remote control is pressed. Short video clips without audio such as FBI warnings, copyright messages are usually stored in this file of the VMG. This file is not required and may or may not be present on a DVD-compliant disc.
3. VIDEO_TS.BUP is an identical copy of VIDEO_TS.IFO. If the DVD player cannot read information from the VIDEO_TS.IFO, it will attempt to get the required information from this backup file. This file is required to be present on a DVD-compliant disc.
Section 12 of the Unofficial DVD Specifications 2.2 Acrobat PDF ebook presents in details all required and optional structures in the Video Manager. If you do not have a permanent Internet connection, this ebook can save you a lot of connection time by reading it off-line and it contains more information than presented on the web pages. Each DVD instruction is organized as a bookmark so you can get to the desired page of any of the 36 DVD commands with just a click. A DVD command generator is provided so you can generate 100%-compliant DVD commands from your desktop.
All research efforts have been done for you and summarized in an easy-to-read format. This is the only ebook of its kind so save yourself a lot of time and efforts searching. You cannot get similar high-quality information anywhere else at this price.
The ebook version offers these immediate benefits:
Having more detailed information than on the web pages.
Understanding DVD terminology and architecture.
Better use of authoring products such as Sonic Scenarist, Adobe Encore, DVD-Lab, IFOEdit, etc.
Detailed knowledge of DVD virtual commands.
DVD VM Command Generator 2.75 with the same engine as seen on this site to generate 100%-compliant DVD commands.
Understand how DVD menus work with navigation commands.
Conversion of DVD color from YCrCb to RGB plus a free copy of DVD-Color 2.16.
30-day email technical support.
Acquire the technical background to write DVD applications and a lot more…
5. DVD Video Manager (VMG)
Section 12 of this document presents in details the following data structures in the Video Manager VMG domain.
Video Manager Information Management.
Video Manager Title Map.
Video Manager Program Chain and Language Units.
Parental Management Information.
Video Title Set Attribute Information.
Text Data Management Information.
Cell Address table for VIDEO_TS.VOB
VOBU Address map for VIDEO_TS.VOB
All required and optional structures in the Video Manager are listed in the Unofficial DVD Specifications 2.2 Acrobat PDF ebook.
5.1. Graphical display of VMG Data Structures
The above illustration displays major data structures in the Video Manager VMG which are stored in the file VIDEO_TS.IFO. The Video Manager Information Management points to the physical location of the First-Play PGC, each VTS on the DVD disc, and other data structures in the VMG. The Video Manager Title Map acts as an index to all video titles on the disc. The Video Manager Language Units provide information on all language units found in the Video Manager domain. The Video Manager Menu Program Chain Units point to the location of all PGCs present in the VMG, including the title menu if this menu is present. The Video Manager Cell Address Map and the Video Object Unit Map point to locations of all cells in the VMG and their associated VOB units.
DVD video discs equipped with the parental management function are rated according to their contents. The contents allowed by a parental level and the way a DVD is played back can be controlled by setting the appropriate Parental Management Level (PML).
All or part of a DVD disc can be encoded with a PML numbered from one to eight. Eight is the most restrictive level (adults only) and one is the least restrictive (all ages). The idea is to prevent children from watching adult contents without parental consent, while allowing adults to watch child-safe content.
In the United States and Canada, the levels usually map to the rating system of the MPAA (1- Kid Safe, 2- G, 3- PG, 4- PG-13, 5- Unrated, 6- R, 7- NC-17, and 8- Adult), but this is not the case in other countries or parts of the world.
Many DVD movie titles available on the market today, have an Audience Rating (see the chart below), which indicates the particular group of audience suitable for viewing the movie.
| | | |
| --- | --- | --- |
| PML | Rating | Description |
| 1 | | PML Level 1 |
| 2 | G | Suitable for general audiences |
| 3 | PG | Parental guidance suggested |
| 4 | PG-13 | Parental guidance suggested, unsuitable for children under 13 |
| 5 | | PML Level 5 |
| 6 | R | Restricted, violence, adult language and situation unsuitable for young viewers |
| 7 | NC-17 | Adult theme or content, not suitable for children under 17 |
| 8 | Adult | Adult contents, hardcore sex |
The DVD specifications support temporary PML (with the VM command SetTmpPML). If the DVD disc has an audience rating, scenes which are unsuitable for children are usually replaced with more suitable scenes, or the playback of the disc is completely prohibited. A DVD disc authored to support temporary PML usually provides two versions (video angles) of the same chapter in a title, each assigned a different PML.
For example, a DVD player is set up to allow PML level 4 rating (PG-13). If a DVD disc with a PML level 5 rating (R) is inserted, the following or similar screen is displayed to allow the viewer to proceed or not.
If the viewer selects NO, the disc is locked out and the following or similar screen is displayed.
If the viewer selects Yes to proceed, a DVD player with proper PML setting will prompt for a password (most DVD players use a 4-digit code which the viewer can enter through the keypad of the remote control). If the viewer enters the password correctly, the version at PML level 4 rating is shown (instead of the version at PML level 5). Otherwise, the disc is locked out again.
Posted on August 30, 2009
Filed Under Video files, Video Hosting, Video Sharing | Leave a Comment
Color information recorded in the color palette provided by each PGC is encoded as luminance and color difference coded signals (YCrCb). This encoding is popular among many component video systems and is used by the DVD-Video standard.
YCrCb is the method of color encoding for transmitting color video images while maintaining compatibility with black-and-white video. This type of encoding has traditionally been used in composite television. This method uses less bandwidth than the three separate video signals in an RGB video transmission in computers. Compression algorithms can achieve high degree of compression with YCrCb encoding.
YCrCb consists of two major components: luminance (Y) and chrominance (CrCb or also known as UV). Luminance describes the black-and-white component of a video signal (pixel color). The amount of luminance or Y-component of a video signal indicates its brightness (the amount of light intensity). Certain amount of luminance is required to make a color pixel visible to the human eyes. Chrominance (or chroma) describes the color portion of the video signal which includes hue and saturation information. Hue indicates the color tint of an image. Saturation describes the condition where the output color is constant, regardless of changes in the input parameters. The chrominance components of YCrCb include the color-red (Cr) component and the color-blue (Cb) of the color.
Digital coding in the form of YCrCb signals can represent a substantially greater gamut of signal values than can be supported by the corresponding ranges of RGB signals. Therefore, it is possible to produce YCrCb signals which would result in out-of-range values when converted to RGB. To prevent overflowing conditions, clipping is applied to the YCrCb signals before performing the RGB conversion. Clipping can be applied in a way that maintains the luminance and hue values and minimize the subjective impairment by sacrificing only saturation.
The following on-line tools can be used to convert between the two color spaces, YCrCb to RGB and vice versa.
There are different equations for SDTV (Standard Definition Television, 525-line and 625-line systems) and HDTV (High Definition Television, 1920 by 1080 resolution). The equations differ only in the coefficients.
The following color conversion for SDTV uses the coefficients as recommended by the ITU-R BT.601-5 standard for 4:3 and wide-screen 16:9 aspect ratios and is most compatible with the usage of DVD colors on standard televisions.
YCrCb to RGB (SDTV)
RGB to YCrCb (SDTV)
The following color conversion for HDTV uses the coefficients as recommended by the ITU-R BT.709-5 standard for HDTV and is most compatible with DVD colors on computer monitors and high-definition televisions.
YCrCb to RGB (HDTV)
RGB to YCrCb (HDTV)
Information regarding the conversion equations and their coefficients to convert from YCrCb to RGB color space and vice versa are explained in The Unofficial DVD specifications 2.2. This ebook is now available in Adobe Acrobat PDF format. If you do not have a permanent Internet connection, this ebook can save you a lot of connection time by reading it off-line and it contains more information than presented on the web pages. Each DVD instruction is organized as a bookmark so you can get to the desired page of any of the 36 DVD commands with just a click.
All research efforts have been done for you and summarized in an easy-to-read format.
Posted on August 30, 2009
Filed Under Video conferencing | Leave a Comment
Conducting a conference between two or more participants at different sites by using computer networks to transmit audio and video data. For example, a point-to-point (two-person) video conferencing system works much like a video telephone. Each participant has a video camera, microphone, and speakers mounted on his or her computer. As the two participants speak to one another, their voices are carried over the network and delivered to the other's speakers, and whatever images appear in front of the video camera appear in a window on the other participant's monitor.
Multipoint videoconferencing allows three or more participants to sit in a virtual conference room and communicate as if they were sitting right next to each other. Until the mid 90s, the hardware costs made videoconferencing prohibitively expensive for most organizations, but that situation is changing rapidly. Many analysts believe that videoconferencing will be one of the fastest-growing segments of the computer industry in the latter half of the decade.
source: Webopedia
Posted on August 29, 2009
Filed Under Video files | Leave a Comment
Many of us have problems converting videos. It's not straightforward. And when you ask for my help I always ask about your video. You should always be able to read what type of video you are dealing with before you start questioning why it doesn't work.
In many cases once you read your video properties it will become quite obvious why it doesn't play. As long as you know that compatible resolutions are:
sub-QCIF
QCIF
CIF
QVGA
VGA
So take these tips as an important step into figuring out what you need to convert in order to be able to use the video in your phone.
These are some useful ways to see the video file information in different players or applications.
Quicktime – CTRL + I
RealPlayer – Tools -> Playback Statistics
ImToo 3GP encoder – CTRL SUPER – Double click on the file
DIVX player – ALT + I
Windows Media Player 11 – File -> Properties

Posted on August 28, 2009
Filed Under Video files, Video Hosting, Video Sharing | Leave a Comment
The Digital Video In-Stream Ad Format Guidelines give advertisers and their agencies the ability to develop advertising content with consistent specifications, which can be accepted by many of the leading interactive publishers. The purpose of this set of guidelines is to lend efficiency to the online ad-creation and media-buying communities. Agencies, advertisers and their creative partners are encouraged to seek companies that are compliant to take full advantage of this ease of use.
Compliance Program for IAB members:
The IAB Digital Video Ad Format Compliance Seal program has been designed to integrate into compliant member sites with ease. The IAB suggests that compliant member sites post the compliance seal in their online media kit as well as in their print versions. Media buyers will be educated about the benefits of Digital Video Ad Format Guidelines and be encouraged to look for the seal. The compliance seal must be placed according to IAB standards and should not be altered in any way.
Digital Video Ad Format Compliance Defined
Publishers who are compliant with the Digital Video Ad Format Guidelines self attest that they offer advertisers linear video ads with either 4:3 or 16:9 aspect ratio, and at least one of the following companion ad sizes: 300X250, 300X100, 469X60, 728X90, 300X60. For non-linear video ad formats, publishers must offer overlay ads of either 300X50 or 450X50.
How to Obtain the Compliance Seal:
In order to obtain the seal, a member company should download and fax the IAB Compliance Seal Application. Once the form has been received and reviewed, and assuming compliance, an attachment with the seal will be received by the compliant IAB member-company's site.
Posted on August 24, 2009
Filed Under hdtv, Video files, Video Hosting, Video Sharing | Leave a Comment
As I stated before in my previous posts, watching on HDTV screens with a common, standard def signal, you will NOT get a high quality, in some case the quality won't be even good. This means that high def televisions need a HD signal which can be acquired by the following sources: antenna, cable television or TV companies based on satellite signals (for sure there is at least one in your country, don't worry).
The first method is not as much as popular as the other two due to the fact that not all TV channels send via antenna their HD signal. Still if possible, this method is not that much expensive, all you need is a specific tuner which can receive those signals.
HD Television is most popular via cable television and a set-top box. You may need to pay for some specific channels or for playback of particular TV shows, but that's all.
The last method, described in this post, is the satellite-based signals of the TV companies. They are usually expensive and you will have to buy a new receiver boxes, specifically associated with satellites.
As you can see, there are different sources of HDTV and each one of them has its own advantages and disadvantages. It is up to you to decide which one to choose. Good luck!
Posted on August 23, 2009
Filed Under hdtv, Video files, Video Hosting, Video Sharing, Web Video Glossary | Leave a Comment
You recently bought a high-def TV, but the quality is not as good as you thought? Even worse, your favorite episode from Lost, or maybe House M.D. looks terrible although you already got the newest TV set?
As you may already have noticed that every month, even a week, new models of TV screens are on the market; and as a user and a potential buyer, you are unsure which one to buy. Basically, there are  two types of TVs – SDTV and HDTV. The problems that might appear when you buy a new high-def TV are described below; that passage also includes useful information for everyone who wants to be familiar with the newest technologies and developments.
Don't worry – the reason for the bad quality is pretty simple; half of the people who are using high-definition TVs, are not using HD signals. You MUST be bothered to put HD signal, otherwise there aren't really any advantages of HDTV. In addition, you will have to get from your satellite provider HD set-top box, and install it properly.
Another thing you have to remember is that most of the channels do NOT support high-definition signals and as a result you, as a viewer, will not get the quality you want.
The standard definition looks terribly on HDTV, and there is not really any point in buying a high-def TV, when you will use the standard definition.
Important aspect to know, when buying HDTV screens, is that they have 16:9 wide ratio, and as a result the standard definition signal will be stretched and the quality will be literally terrible. You will have the black bars on both sides of your TV, but at least they won't be that annoying and you will have the crystal quality.
My personal advice is to make sure that you know everything about SDTV and HDTV, and then you will be able to make the right choice.
Posted on August 23, 2009
Filed Under Video files, Video Hosting | Leave a Comment
H.264 (also known as MPEG-4 Part 10 or MPEG-4/AVC) is a new video codec standard which can achieve high quality video in relatively low bitrates. You can think it as the "successor" of the existing formats like DVD (MPEG2), DivX & XviD (MPEG-4 Part 2 also know as MPEG-4/ASP) etc, as it aims in offering similar video quality in half the size of the formats mentioned before. H.264 requires a fast CPU and lots of RAM to playback fine. If you have one of those old PIIIs or any CPU less than 1GHz plus less than 256MB RAM you may have trouble decoding H264 content fast. H.264 is a codec standard, so there are various implementations around. The most important (and easy to use) tools you can use to create a H.264 video are:
Nero Digital. Their latest version includes an H.264 encoder called NeroDigital AVC.
Apple Quicktime. Using Quicktime Pro you can encode videos using H.264 in both Windows and Mac OS X platforms but it's encoder is relative slow.
x264. An open source solution. It is command-line only, but its being used in various free programs like SUPER (Simplified Universal Player Encoder & Renderer), Fairuse Wizard (DVD to file compressor) and various other projects.
There are various other solutions like the MainConcept H.264 encoder, Sorenson and VSS to name a few, but they are either too expensive for the average user or hard to find. Some of them are pretty unstable as well. You may come across all kind of file extensions and still the codec can be H.264:
.avi – Microsoft's container format – Yes, people use .avi for H.264 videos too!
.mp4 – Nero and Quicktime use this format. Better than AVI as you can store AAC audio as well.
.mkv – Matroska container format – can support many video and audio formats.
.h264 – This extension is not commonly used. Maybe in the future.
Posted on August 22, 2009
Filed Under Video files | Leave a Comment
Hello friends! Today I'll post for File Formats.
Basically, AVI and QuickTime are file formats, a collection of file headers and control information wrapped around some video (and audio) data to define the contents of a video file. In order to play a video file, you first need to know what it contains. The file can have one stream of video, or an audio stream (mono or stereo), or both, or even more than one of each. Each stream can then be stored in different ways: with different video resolutions and compression formats, and different audio formats and quality.
The AVI and QuickTime file formats define the contents of a video file — the number of streams, their type, and format. Along with the stream descriptions, the file formats also contain timing information for synchronizing the streams, particularly so the video and audio can be played in sync. The file formats also provide different mechanisms for interleaving the video and audio data within the file so that they can be processed efficiently and played, in sync, in real time.
Playing AVI and QuickTime files requires system software on the Windows and Mac platforms that can read and play video files in their supported formats. In order for your system to play a file, it's not enough for the file format to describe how to separate out the data for each video and audio stream; it also needs to provide information about the format of the data in the stream. Video data can be stored at different resolutions, with different amounts of color information, and with different compression algorithms. The compression algorithms squish down and mix up the video so that it can be incomprehensible without the corresponding decompression algorithm. AVI and QuickTime provide extensible architectures for adding new compression algorithms to your system. These are called "codecs," for compressor-decompressor.
keep looking »